Function
Better reliability thanks to quality control
pro clima WINCON sucks the air out of the building.
Air will flow in at weak points.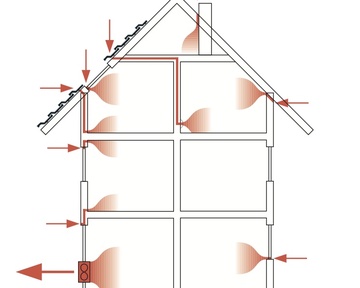 A fan can remove all doubts!
A fan is built into a door or window and creates a "mini-vacuum" of 50 Pa in the building. Air will then flow in through any leaks in the airtight layer. This flow can clearly be felt with the back of the hand or made visible using air flow testing devices (smoke tubes).

pro clima WINCON is a testing device with an exceptionally high fan capacity (9 800 m³/h at a pressure difference of 50 Pa). This can also be used to test spaces with large volumes.

Testing in a quick and cost-effective manner
Ideally, this test will be carried out before the inner cladding is fitted, as leaks can be rectified during testing in this case.

An assessment is always recommended
Testing of the airtightness is recommended for every building project, as the training effects increase the reliability of built structures, help to create trust on the part of the client and document the quality of the work performed.