Area of application SOLITEX FRONTA QUATTRO
Area of application
Its ro­bust con­struc­tion makes SOLI­TEX FRONTA QUAT­TRO an ideal wall lin­ing mem­brane.
It can be laid as an ex­ter­i­or seal­ing mem­brane dir­ectly on the posts of the frame­work or in­su­la­tion and as a wall lin­ing mem­brane on board­ing made from sol­id wood or wood-based pan­els.
It pre­vents cold, out­side air flow­ing through rear-vent­il­ated con­struc­tions near the sur­face and en­sures the op­tim­um ef­fect­ive­ness of the thermal in­su­la­tion.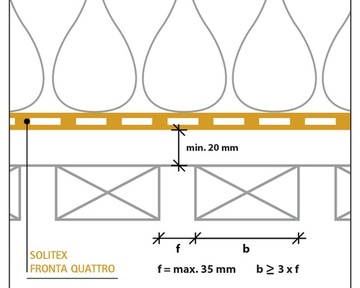 Driving rain and open jointed façades
As a res­ult of its ex­cel­lent res­ist­ance to driv­ing rain and its ex­tremely high tear res­ist­ance, SOLI­TEX FRONTA QUAT­TRO meets high re­quire­ments on the pro­tec­tion of the con­struc­tion dur­ing the build­ing phase and is weath­er res­ist­ant for up to 6 months be­fore the fi­nal clad­ding is in­stalled.
Act­ive dif­fu­sion trans­port via the mono­lith­ic poly­mer mem­brane in­sures that struc­tur­al com­pon­ents stay dry.
The mem­brane can be used be­hind open join­ted façades with a max. 35 mm gap and at least 20 mm rear vent­il­a­tion. The ex­ter­i­or clad­ding must be at least three times the width of the gap.