Area of application SOLITEX MENTO
Area of application
Membranes in the SOLITEX MENTO family can be used as both underlay and sarking membranes.
They stop cold air from flowing through the building structure and ensure that the thermal insulation works in an optimal manner.
With its extremely high level of watertightness and high stability, the SOLITEX MENTO family fulfils the requirements of the Central Association of the German Roofing Trade (ZVDH) and can also be used as a temporary covering.
In accordance with the regulations of the German roofing trade, they are suitable as an additional measure for rainproofing as sarking membranes when covering a roof with roofing tiles with simple overlapping.
When used as an underlay membrane with simple overlapping on wooden decking, SOLITEX MENTO membranes are suitable as an additional measure for rainproofing even in the case of more demanding requirements.
Use as a temporary covering
SOLITEX underlay and sarking membranes can be used as temporary covering for up to 6 months to protect the building structure during the construction phase. In this case, the roof slope must be at least 14°. System adhesive tapes and adhesives should be used to stick overlaps and joints.
The connect variants have two self-adhesive zones for reliable exterior sealing. Dark marks may form on the membrane as a result of rainwater. These have no influence on the high high level of watertightness and the effectiveness of the interior membrane.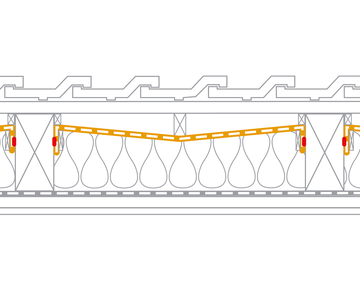 Retrofitting roof lining
Insufficient roof linings can be rectified internally by retrofitting SOLITEX roof lining/roof sarking membranes.