Modern buildings demand new quality considerations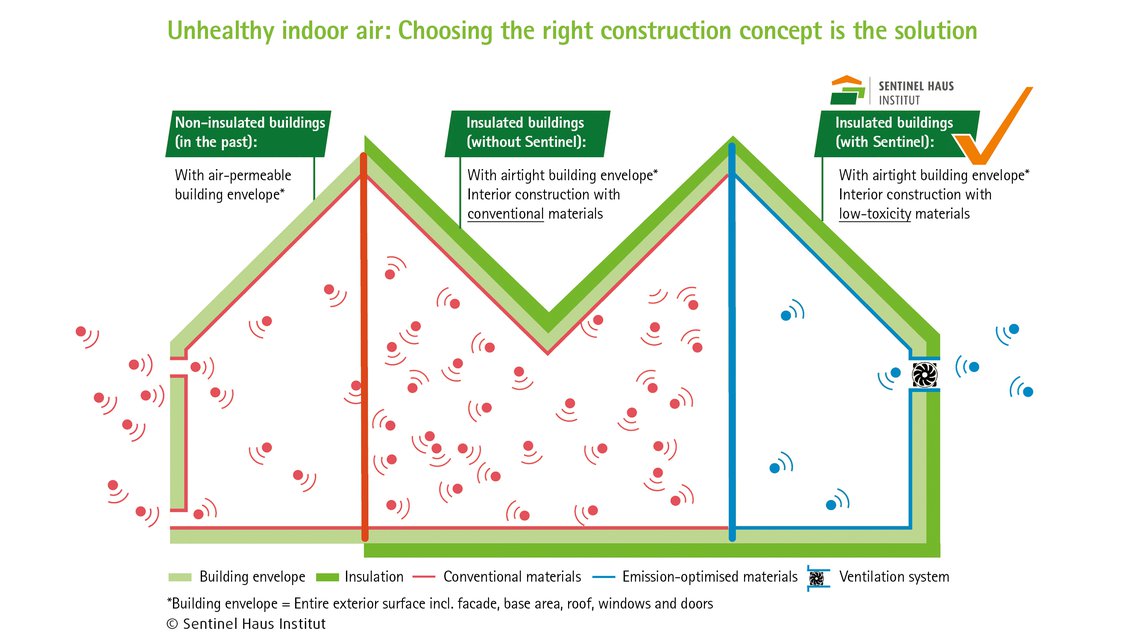 Healthier airtight construction – Solutions for harmful substances in the air
Airtight building has many benefits is required by construction regulations in many territories. However, harmful substances that are kept inside buildings can make us ill.
Constructing healthier buildings doesn't need to be more costly or more time-consuming. Health-oriented solutions for construction, renovation projects, furnishings and home living are available and are easy to implement.
Find out more about how you can achieve a feelgood indoor climate
Good indoor air – Tested constituent materials play a crucial role
Reliable documentation for construction materials is an essential part of creating healthier buildings. If good indoor air quality is to be achieved, declarations verifying the constituent substances of all construction products need to be available. In addition, independent testing institutes determine which emissions – such as formaldehyde or volatile organic substances (VOCs) – are given off by these products. We at pro clima take the avoidance of harmful substances into account at the product development stage. This gives us the confidence to submit our vapour check and airtight membrane systems, including the associated adhesives, adhesive tapes and primers, to demanding independent tests. Our products regularly achieve excellent values in hazardous substance testing.
We at pro clima have been working to create healthier buildings for several decades – even back when the terms such as 'healthy buildings' didn't exist and when there was hardly any awareness of the problems presented by harmful substances in the air.
Providing reliable, transparent support to quality assurance in construction is an important issue for us. With this aim in mind, pro clima cooperates with institutions such as the Sentinel-Haus Institut (SHI) in Freiburg and TÜV Rheinland, and has also initiated and supported projects to promote healthier building.
Unfortunately, not all construction products are tested and consistently labelled in terms of emissions of harmful substances. Instead, buyers are faced with confusing, sometimes misleading terms such as: healthier building, healthy indoor environments, ecological, organic, etc.
All of pro clima's tested solutions
pro clima initiative for healthier buildings