Humidity-variable sealing strip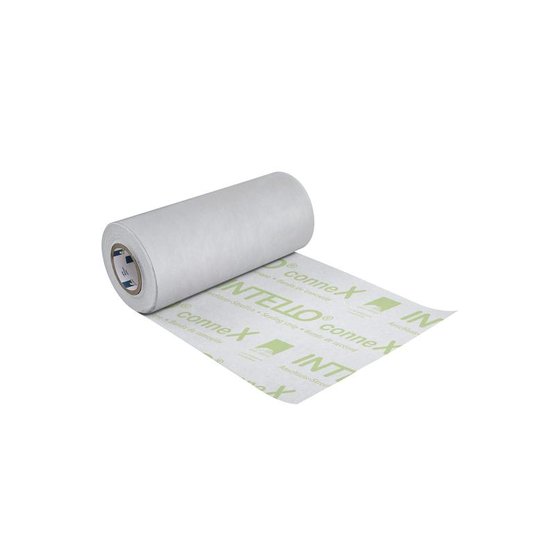 Advantages
Time-saving installation: vapour check strips are pre-cut
Also suitable for building components with short-term moisture effects
Construction in adherence with standards: for airtight bonding in accordance with DIN 4108-7, SIA 180 and RE 2020
Protection in rough everyday building site environments thanks to robust fleeces
Excellent protection for building components thanks to humidity-variable diffusion resistance
Excellent values in hazardous substance testing, has been tested according to the ISO 16000 evaluation scheme
Areas of application
Strip for sealing over joints, e.g. at floor joints with concrete floors/ceilings, on wood-based panels, for use on the middle purlin (between middle purlin and rafters) for bonding with an adjacent airtight membrane, or as a repair strip for sealing leaks in a roof, wall, ceiling or floor.
Installation instructions
General conditions
pro clima INTELLO conneX is to be installed with the printed side facing the installation technician. Adhesive bonds must not be subjected to tensile forces. Do not press applied lines of adhesive completely flat – rub adhesive tapes firmly into place. Ensure that there is sufficient resistance pressure.
Airtight seals can only be achieved on vapour checks that have been fitted with no folds or creases. Ventilate regularly and systematically to prevent build-up of excessive humidity (e.g. during the construction phase). Occasional, intermittent ventilation is not sufficient to remove large quantities of moisture due to construction work from a building; use a dryer if necessary.
Substrate
Clean subsurfaces before sticking. Mineral surfaces (plaster or concrete) may be slightly moist. Adhesion is not possible on frozen surfaces. There must be no water-repellent substances (e.g. grease or silicone) on materials to be bonded. They must have sufficient stability – if necessary, a mechanical support (pressure lath) must be used (e.g. on crumbling subsurfaces).
Permanent adhesion can be achieved using the TESCON VANA or TESCON No. 1. adhesive tapes on all pro clima membranes, PE, PA, PP and aluminium sheeting, planed and painted wood, hard plastics and rustproof metal (e.g. pipes, windows), and hard wood-based panels (chipboard, OSB, plywood and MDF panels).
Use ORCON F, ORCON CLASSIC or ORCON MULTIBOND for adhesive bonding to rough subsurfaces (e.g. rough wood) or mineral subsurfaces (e.g. plaster or concrete).
It is your responsibility to check the suitability of the subsurface; adhesion tests are recommended in certain cases.
---
---