Welding liquid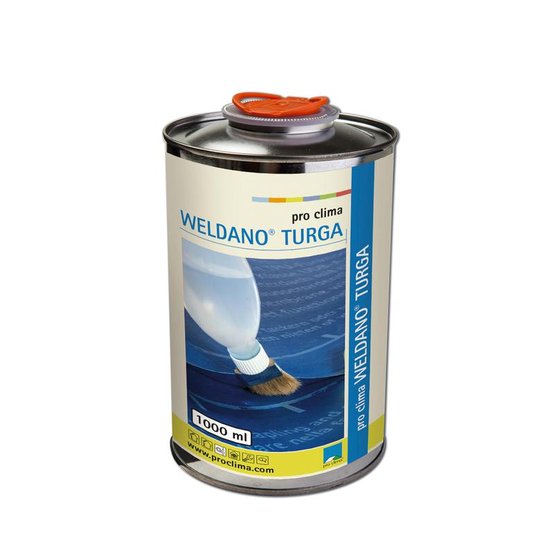 Advantages
Economical to apply
Reliable homogeneous bonds can quickly be subjected to loading
Customised welding liquid as part of the SOLITEX WELDANO roof lining system
Areas of application
Welding liquid for waterproof adhesion of overlaps for roof lining membranes made of PU (e.g. SOLITEX WELDANO 3000). Also suitable for adhesion of system products - such as SOLITEX WELDANO-S 3000 sealing strips - that are used to seal details.
Installation instructions
General conditions
Shake the container or stir the contents before use. Around 200 - 250 metres (219-270 yd) of membrane length can be welded (weld joint width 30 mm; 1.2") using a litre of WELDANO TURGA. The working temperature must not be below 0 °C / 32 °F.
Use the 500 ml bottle with a brush for particularly quick and easy application.
Advantages: quick and easy application of the WELDANO TURGA solvent welding agent, allows the technician to work with one hand, no contamination of the solvent welding agent in the container, volume of 500 ml (16.9 US oz).
Substrate
Before WELDANO TURGA is applied, SOLITEX WELDANO 3000 should be wiped clean with a cloth. There must be no water-repellent substances (e.g. grease or silicone) on the subsurface.
---
---