Refurbishment vapour check for 'sub-and-top' installation from the outside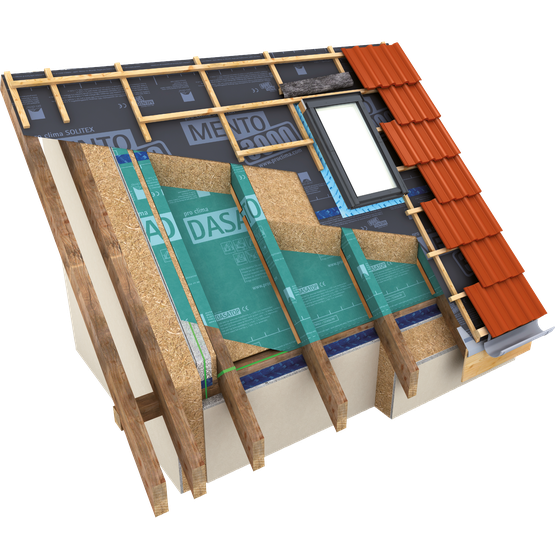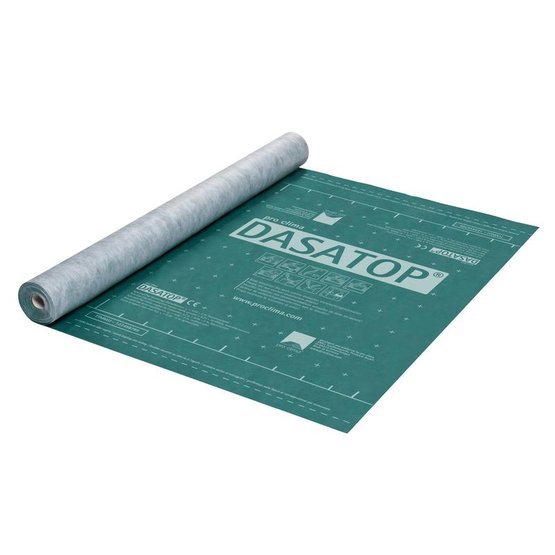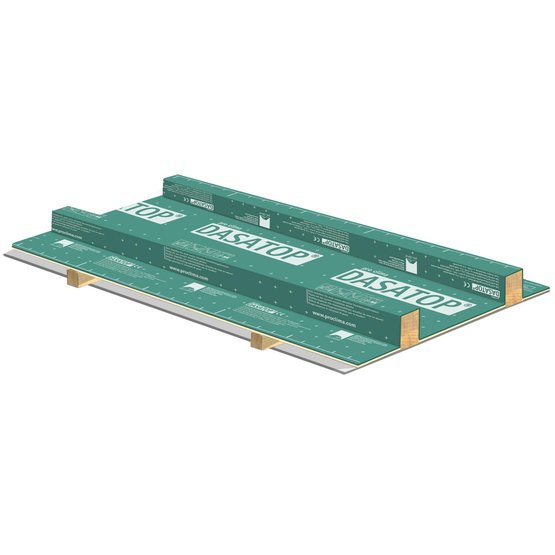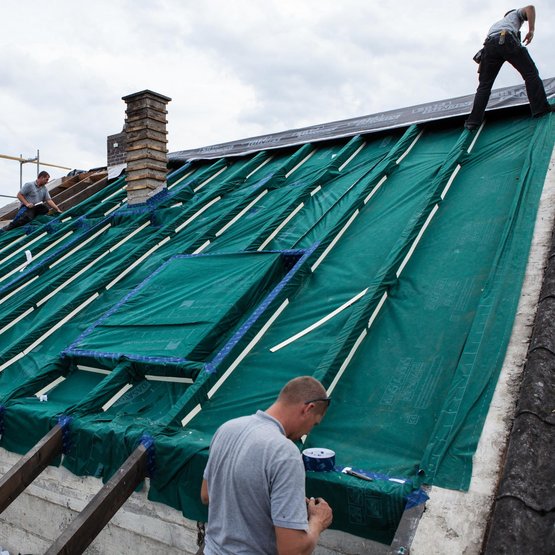 Advantages
Best possible reliability thanks to 'sub-and-top' installation
Protects building components: humidity-variable sd value allows for installation into the spaces between rafters and over the tops of the rafters
Time-saving installation: no adhesion to rafters required
No insulation cover necessary
Easy to work with: particularly robust thanks to fleece reinforcement
Excellent values in hazardous substance testing, has been tested according to the ISO 16000 evaluation scheme
Areas of application
Suitable as a 'sub-and-top' vapour check and airtight membrane for all structures with diffusion-open roofing underlay membranes (e.g. pro clima SOLITEX) in accordance with DIN 4108-3. If the roofing underlay membrane is installed onto cladding, the maximum permitted sd value of the underlay is 0.2 m (maximum g value: 1 MN·s/g ; minimum perm rating: 16.4 US perms). Also suitable in combination with wood-fibre underlay panels and MDF panels, and with fleece-laminated foam insulation materials (PUR, PIR, EPS etc.) with a thickness of 50 mm (2") and greater.
Installation instructions
Installation video: Roof refurbishment from the outside
General conditions
pro clima DASATOP is to be installed with the printed side facing the installation technician. It is to be installed horizontally (parallel to the eave). Alternatively, it can be installed parallel to the rafters if adhesion to the rafters is carried out in a waterproof manner. The weight of the insulation material must be supported by suitable interior cladding or cross battens at a separation distance of a maximum of 25 cm (10").
To avoid condensation formation, the thermal insulation should be installed immediately after airtight installation of DASATOP. This applies particularly to work carried out in winter.
DASATOP may only be installed on dry building sites. If plastering or screed-laying work is to be carried out as part of renovation projects, these must be completed long in advance of the installation of DASATOP.
Airtight seals can only be achieved on vapour-check membranes that have been fitted with no folds or creases.
If blown-in insulation is used, DASATOP must be installed directly onto the entire area of the inner cladding.
---
---