Refurbishment vapour check for 'sub-and-top' installation from the outside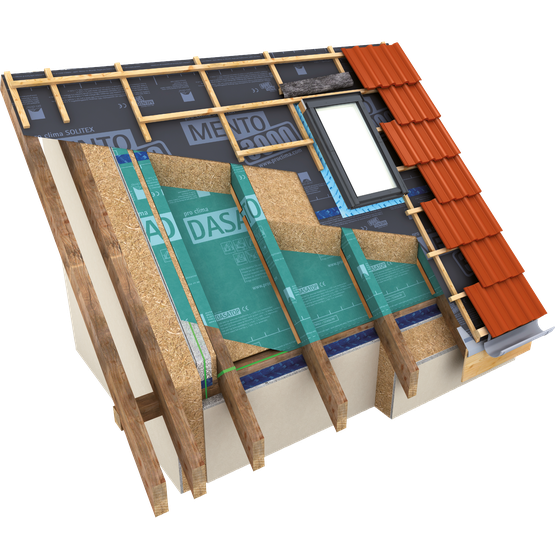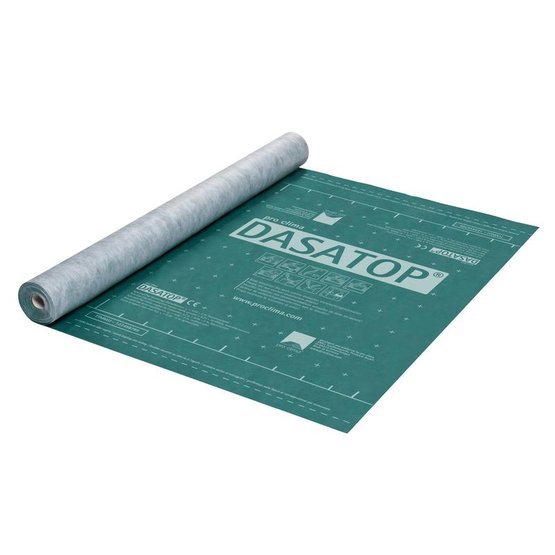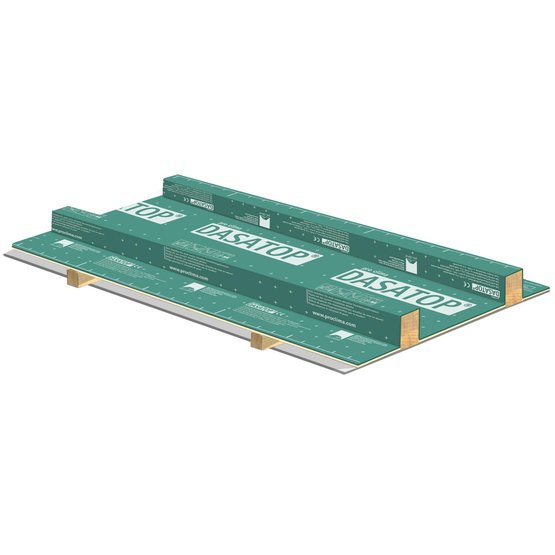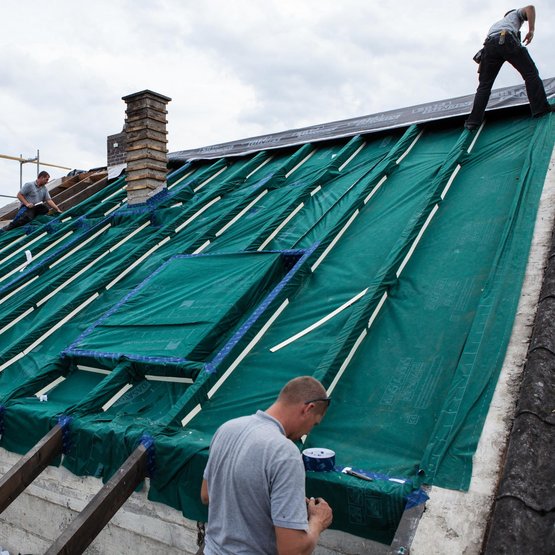 Advantages
Best possible reliability thanks to 'sub-and-top' installation
Protects building components: humidity-variable sd value allows for installation into the spaces between rafters and over the tops of the rafters
Time-saving installation: no adhesion to rafters required
No insulation cover necessary
Easy to work with: particularly robust thanks to fleece reinforcement
Excellent values in hazardous substance testing, has been tested according to the ISO 16000 evaluation scheme
Areas of application
Suitable as a 'sub-and-top' vapour check and airtight membrane for all structures with diffusion-open roofing underlay membranes (e.g. pro clima SOLITEX) in accordance with DIN 4108-3. If the roofing underlay membrane is installed onto cladding, the maximum permitted sd value of the underlay is 0.2 m (maximum g value: 1 MN·s/g ; minimum perm rating: 16.4 US perms). Also suitable in combination with wood-fibre underlay panels and MDF panels, and with fleece-laminated foam insulation materials (PUR, PIR, EPS etc.) with a thickness of 50 mm (2") and greater.
Planning and construction guidelines
Areas of application
The pro clima DASATOP vapour check membrane, which can be subjected to outdoor exposure, can be used on refurbishment projects as follows:
For the particular method of 'sub-and-top' roof refurbishment from the outside; this membrane is optimised for installation into the spaces between the rafters and over the rafters
On residential buildings or buildings with residential-like use, in all rooms such as living rooms, bedrooms, kitchens and bathrooms
On structures that are open to diffusion on the outside
Insulation cover with PU (fleece-laminated) of at least 50 mm (2") possible
'Sub-and-top' solution with DASATOP
Roofing underlay membrane, e.g. pro clima SOLITEX MENTO 3000
Reinforcement rafter
Fibrous insulation material
DASATOP FIX mounting strips
DASATOP
Service cavity, if applicable
Inner cladding
Possible combinations of insulation materials
Optimal protection for building structures can be achieved with the DASATOP system if the following conditions are met:
External roof insulation with fibrous insulation material
Roofing underlay membranes that are open to diffusion on the outside (e.g. the SOLITEX MENTO series), also on cladding, and
Wood-fibre or MDF underlay panels
Covering with at least 50 mm (2") of PU external roof insulation (fleece-laminated) is possible (no aluminium backing). A combination with foam insulation materials should only be used as a covering if: - Drying out of the structure to the outside is ensured, and - This combination is installed in the pitched roof area, but not on uppermost ceilings/floors underneath unheated attic spaces
In general, pro clima DASATOP cannot be used on structures that have diffusion-tight component layers on the outside.
4 weeks of outdoor exposure
pro clima DASATOP can be subjected to outdoor exposure for up to 4 weeks to protect the building structure. Please note that DASATOP does not provide sealing that is equivalent to an emergency roof. Moisture can enter at staples or other perforations (nails, screws etc.). Drainage of water across adjacent building components (e.g. sill plates) must be ensured. Additional covering with tarpaulins is recommended for buildings that people are still living in or that are particularly worthy of protection (e.g. historical or listed buildings).
Use of fibrous insulation materials
Fibrous insulation materials are ideal. Moisture must be able to penetrate as far as the vapour check in order for the humidity-variable properties of DASATOP to have an impact. Diffusion-open insulation materials ensure that this is the case and are recommended for this reason.
If blown-in insulation is used, DASATOP must be in contact across the entire area of the inner cladding.
DASATOP can also be combined with fleece-laminated foam insulation materials as an additional insulation covering (for greater than 50 mm (2") thickness) if the structure is open to diffusion to the outside. However, this is only possible in the pitched roof area, but not on uppermost ceilings/floors underneath unheated attic spaces.
Installation under reinforcement beams:
If the cross-sectional area of the rafters is to be increased, it is recommended to first install DASATOP and then fit the reinforcement beams. In this way, the airtightness layer is positioned on the warmer side of the structure, which is favourable from a construction physics viewpoint.
Use possible on structures that are open to diffusion on the outside
Diffusion-open roofing underlay membranes (e.g. SOLITEX roofing membranes) protect the structure during the construction phase and provide the required windtightness. They can also be installed onto solid-wood boarding. Permeable underlay panels made of wood-based products can be added to any arbitrary thickness above the rafters.
Inner cladding
In principle, all inner claddings typically used in construction are permitted. Excluded are building components with additional external roof insulation with foam insulation materials (slow diffusion behaviour). In this case, no diffusion-inhibiting layers such as OSB or multi-layer wooden panels may be positioned on the inside of the insulation so as to ensure reliable drying out.
Increased indoor humidity
The diffusion resistance of pro clima DASATOP has been designed to ensure that there is a reliable vapour-checking effect in the case of typical indoor humidities, even in bathrooms and kitchens. DASATOP can be installed on construction sites where no significant plastering or screed work is being carried out.
Quality assurance
In the case of membrane installation on the exterior, efficient quality assurance can be carried out during the course of construction by means of differential pressure testing with overpressure and artificial fog. As part of this testing, fog is generated inside the building using a fog machine. In this way, the airtightness of detail features can be checked and rectified on the exterior. The membranes must be mechanically secured to a sufficient extent beforehand. For this reason, adhesive taping and all joints are to be implemented with particular care.
Detailed construction planning – particularly of joints at the eaves and gable ends and the implementation of these joints on roof refurbishment projects – is particularly important. In Germany, this quality assurance during the course of construction is no substitute for final testing of airtightness in accordance with the German Building Energy Act (GebäudeEnergieGesetz, GEG) or the requirements of the German Reconstruction Loan Corporation (KfW) regarding the determination of the air change rate (n50 value).
Optimal drying conditions
Protection thanks to a low sd value (low g value, high perm rating): If 'sub-and-top' membranes are not in full contact with the rafters, convection tunnels may be formed. These can compromise the protection provided, but often cannot be avoided in practice. Accordingly, it is important in the context of protection against moisture damage to structures that membranes can become extremely diffusion-open so that they can quickly transport larger quantities of moisture arising from convection to the outside.
The variable diffusion resistance of DASATOP has been designed to be ideally suited for quick 'sub-and-top' installation.
---
---